Delicious Vegan Mango Smoothie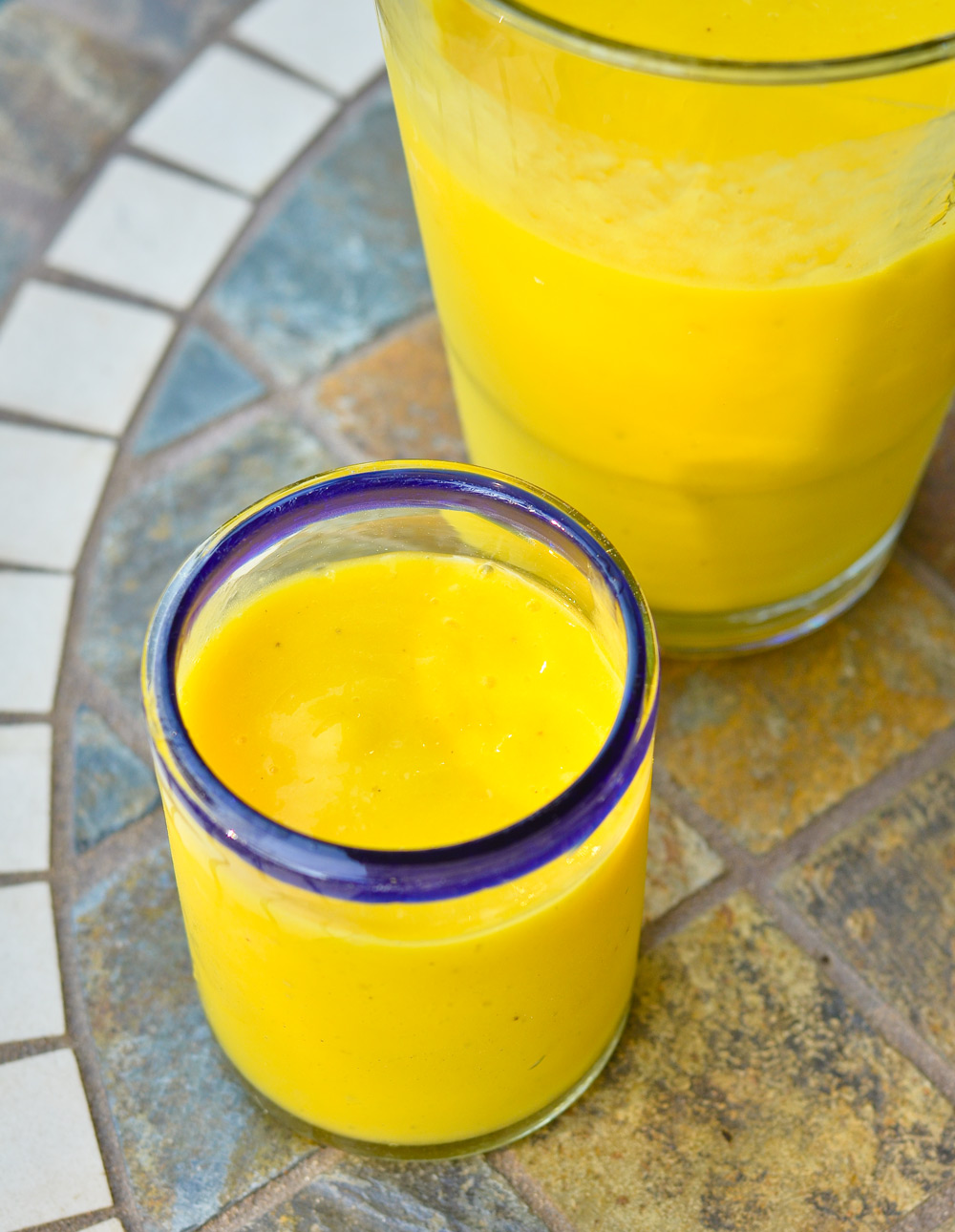 A Favorite Vegan Mango Smoothie: "Mango Sunshine"
Mornings are vegan smoothie time for the FOB household. Containers of spinach, bags of frozen fruit, banana peels, and more cover the kitchen island. My favorite is the vivid green one I call the Green Machine but son Jack has a mango smoothie that is a real eye opener. He calls it Mango Sunshine. (What? Don't you name your smoothies?)
It's a simple one: frozen mangos, bananas, water, and…ginger!
The end result is a beautiful yellow/orange, tangy/sweet delight with a zing of ginger – just right for those wonderful Summer mornings, or to bring some summer brightness to those cold, dark winter mornings for those of you (like us) who live in places where you must endure wintertime.
1 cup water
2 cups frozen mangos
2 or 3 bananas (nice and ripe, please!)
Fresh ginger, to taste
Tips:
The frozen fruit makes it nice and cool, and a little thick, which is nice. You can always use fresh.
Ginger keeps well in the freezer, and you can simply peel and shave some off when needed (just put the root in a plastic bag, or container in the freezer). Jack uses a grater.
Frozen mangos can be hideously expensive at supermarkets – we find them at BJs (USA big-box discount store) and they are a lot more affordable. We have also found them at a great price at Aldi's, Costco, and Walmart.
During the Summer, when mangos are generally available in non-tropical areas for a decent price, buy them in quantity, cut them up and freeze them yourself. Just remember to use a large, gallon size, ziplock bag and arrange the cut pieces in a flat layer until they freeze. That way they will not become one huge block of mango pieces.
This mix can make a delicious soft "nice cream" too. Just spoon into a bowl and place in the freezer for 20 minutes or so. A yummy mango treat!